Posting on a Sunday due to technical difficulties, this week's Friday Feature is SF Etsy member Elizabeth, the creative force behind
Vintage Fusion Jewelry
. I had such fun browsing through her shop! It's full of pretty shiny things, each lovely piece crafted from rescued and repurposed vintage jewelry to create something new and beautiful. I especially loved this
Light Blue Cocktail Ring
, which reminds me of some of the vintage beaded jewelry I inherited from my grandmother. Gorgeous!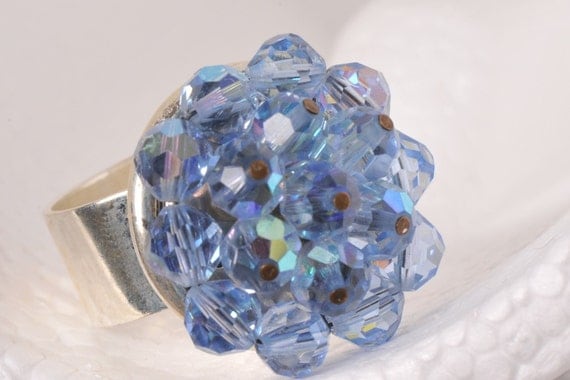 Enjoy the interview!
1. Please tell us about the items in your Etsy shop. What do you make? How did you learn your craft? What is involved in your creative process?
Vintage Fusion Jewelry
uses old pieces and transforms them into fashionable wears for today. My main focus is cocktail and statement rings. I learned to bead around age 12 and I expanded upon my knowledge through self teaching and also through taking classes. I combined these skills with my love for hunting for treasures at garage sales, estate sales and flea markets. I love to find the beauty in objects that might otherwise go unworn or get thrown away.
2. Tell us two (or more) other interesting things about you.
I worked for several different baseball teams selling tickets. Most recently the Oakland A's. I am now working in sales in the Restoration Business. My company CRDN restores textiles after fires, floods or exposure to mold and asbestos. It is a very interesting niche market. I dream of being able to devote my full time attention to
Vintage Fusion Jewelry
but that time has not presented itself yet.
3. What inspires your creations?
I am inspired by color and the beauty in forgotten things. I love the process of hunting for treasures and then transforming them into one of a kind unique jewelry. A sense of calm and relaxation takes over when I am in creative mood.
4. How did you get involved with Etsy?
A friend told me about Etsy and I had no idea it even existed. It has been such a great way to set up my own shop and network with other artists. I love to support handmade so it has been an awesome place to shop, too!
5. What advice do you have for other folks selling or buying on Etsy?
It is important to be patient and realize that it will take time to make sales. With time and effort the sales will come. It has taken me hard work through participating in teams, networking at shows and producing a quality unique product. Also, having great pictures is important. I am extremely fortunate that my dad is a photographer. We will make a date and he rents a special lense for our shoots. We always try new backgrounds and colors to keep the posts unique and fun.
6. What crafting skill(s) do you wish you had or hope to learn someday?
I would love to experiment more with soldering. I have taken a class but I would like to take another one.
7. What has been your biggest success and/or proudest moment since opening your Etsy shop?
Making my first sale to a complete stranger. I have loved watching the positive feedback build up. There is nothing better than having people you have never met rave about your creations!