Wondering about the people behind the posts here at the
SF Etsy Team Blog
? Wonder no longer! Here are the fabulous folks who make up the SF Etsy Blog Team.
Ash
from
Kelly Drive
is part of the
SF Etsy Leadership Team.
As one of the Blog Coordinators, she helps things run smoothly, assists with the
Friday Feature
interviews, and keeps the info up to date here at the blog. She says, "I'm a Philly girl who recently relocated to San Francisco! Kelly Drive is the name of the windy road behind the Philadelphia Art Museum which exudes classic and magical beauty. My shop is a homage to this strong, yet whimsical feeling experienced by so many. I love building clothing; the challenge and the excitement." Her favorite item in her shop is this lovely
Scalloped Petal Top in Cranberry
:
Jen
is also on the
SF Etsy Leadership Team.
She works with Ash as a Blog Coordinator and posts
Friday Features
as well as general team news here at the team blog. Jen is the Mama in
Mama's Magic Studio
, and she spends much of her time with for her 5 year old daughter and 7 year old son. She's happily married to her best friend, and when she's not crafting or hanging out with her family, she usually has her nose in a book. Jen's favorite items in her shop are the
Family Symbol Bird's Nest Pendants
, which can be custom designed to represent a special brood.
Katy of
Katy Atchison Illustration
posts
Tuestorials
and
Inspired by Handmade
columns, and her favorite item in her shop is this
Giraffe Birthday Balloon Invitation
:
Katy is also on the
SF Etsy Leadership Team
, as Co-Captain. She says, "I keep my smile bright and keep myself giggling by creating illustrations, paintings and stationery that makes your heart happy. My art is whimsical and fun! Known around town for the flower I always wear in my hair, I started a small line of hair pieces and jewelry also (officially under the name Betty and Beth Buttons)! I sell them all in my Etsy shop, at a local ice cream shop called Three Twins and a couple other amazing boutiques in San Francisco. I'll be posting something inspiring every week. Whether it's a tutorial on how to make something at home...or a grouping of work that will kick start your brain into thinking of new and exciting concepts and ideas."
Co-Captain Steph of
Nerd Jerk
is another amazingly talented member of the
SF Etsy Leadership Team
. She is SF Etsy's "
Roving Reporter
," and you'll find her smiling face at many local events. Her favorite item in her shop is this
BOOBS Calculator Cover
, about which she says, "It's incredibly silly and kind of represents my sense of childish, nerdy humour."
Steph also says, "What I love about being an owner of a craft business is that our handmade items can take whatever shape they feel like. As artists, we can create what we dream of. And the best thing about it all is if we do it RIGHT, by staying true to our dreams & our values, we're able to bring joy by putting them in the hands of others. My geeky amigurumi plushes make people smiles - from babies to full-grown men. I love the fact that colourful awesomeness can be so universially accepted. Since I'm a modern nerd, I'm always looking for new ways to use my felt/yarn/button stash. If I can come up with something like Mix Tape Pillows, I feel like Albert Einstein! :D"
We are delighted to have team leader Even of
Nadene
writing the "
Asking Even
" column as well as the
Treasury Team challenges
. Her favorite item is this
Cedar Facet Geo Wood Ring.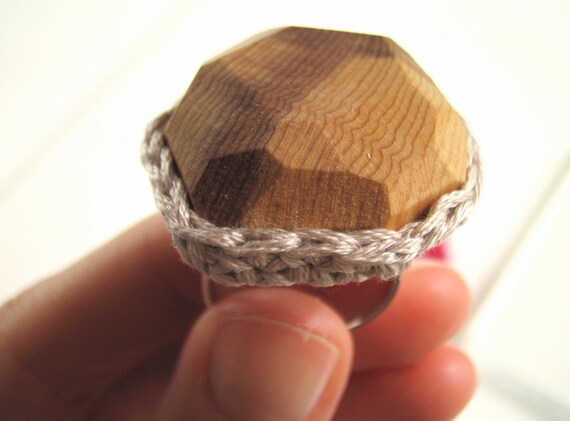 Even says, "Handmade has always been the cultural touchstone of my life. Long before I knew that everyone didn't live such a life, I enjoyed making gifts for friends and family and my first thought when I had a want for something new was how I could make it with something I already had. I love ideas and their fruition, the collaborative synergy as well as the lone exploring along the way. My crochet jewelry is born of this journey, my own answer to the question of how to live simply and well while encouraging and enabling others to do the same in their own way. I've now lived in San Francisco longer than any other place in my life. Enjoying living at the place where people meet the ocean, I'm consciously learning from the people and potential of this city and especially our Etsy team beings and doings. Our team creates momentum and inspiration along with all our arts for sale and I love being part of that."
Dorothy, of
Dorothy Designs
, helps to get traffic to the blog by posting our new articles at our team
Facebook page
, along with a personalized teaser to pique interest. Dorothy's favorite item in her shop is this
Sapphire Silk flower pin
.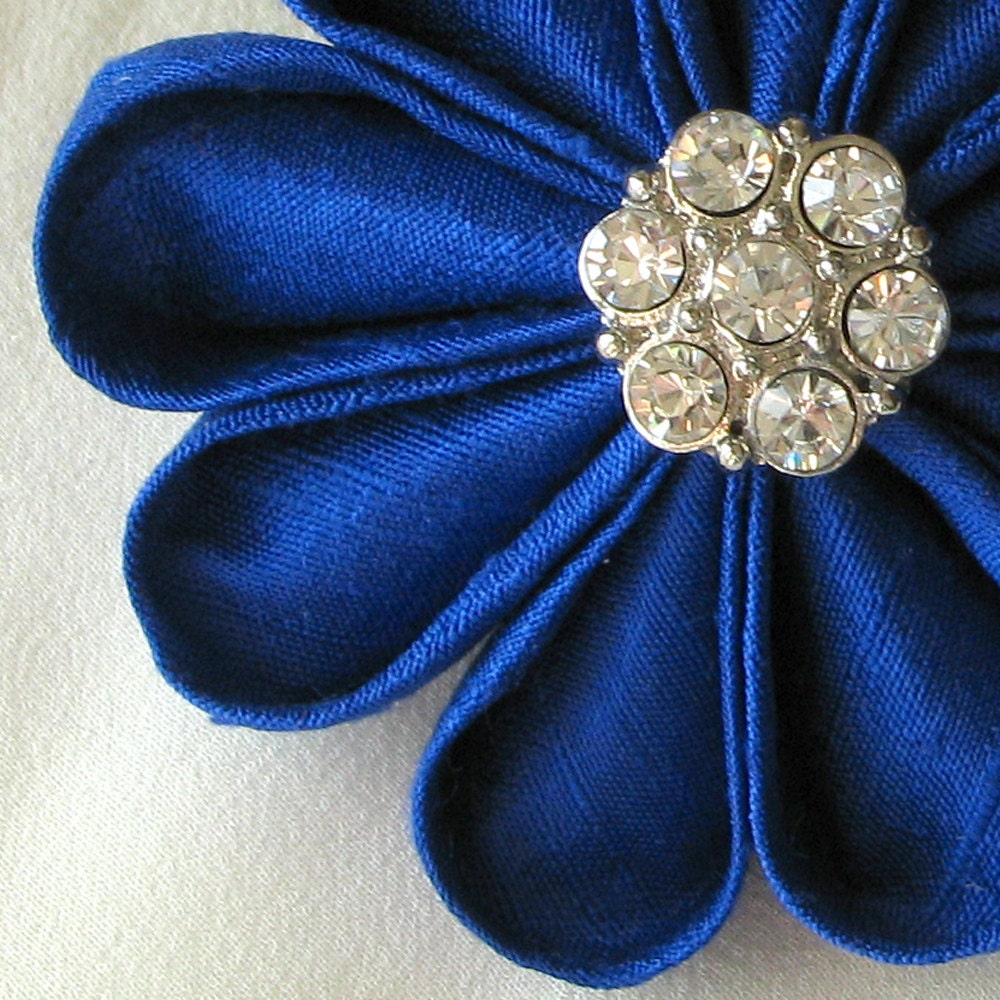 Dorothy took a seminar on making ribbon roses almost 2 years ago and she was hooked. She started turning out fabric flower pins and hair clips and opened an Etsy shop in January of 2010. She appreciates all the support that the SF Etsy Team provides and is glad to be able to make a contribution.
Claire of
Embergrass
helps out at the blog by keeping us up to date about the ever-popular
Tuesday SF Etsy Team Twitter Chats
. Her favorite (and most popular) item in her shop is her
Sundrops Copper Stud Earrings
: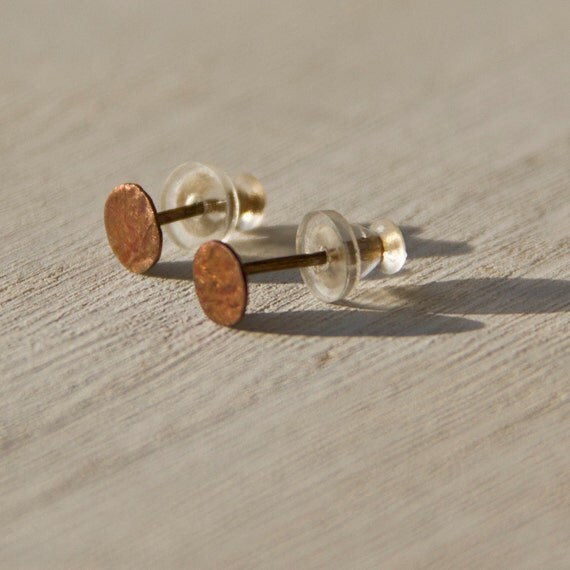 Claire says, "I'm originally from the UK but moved to San Francisco with my husband in 2009. I started creating jewelry when I couldn't find exactly what I wanted for my wedding and have been hooked ever since. I am so glad I found and joined the SF Etsy team because it provides a wonderful community who offer support, business advice and a connection to people who have the same struggles and goals as I do. I'm happy I've found a way to give back and I'm so pleased the #SFEtsy tweetchat has blossomed into another avenue for communication and support within the team, not to mention a great way to get to know some team members a bit better."
Stephanie of
SinceSass
is the crafty mind and writer behind the article
Tuestorials
. Her favorite item in her shop is this
Glitter Vinyl Zipper Pouch
:
Stephanie says, "Born and raised in Las Vegas, I moved to San Francisco 10 years ago and find myself constantly inspired by the people, landscape and opportunities. I started sewing when I was 11 and this has always been my main source of creating things. My shop, SinceSass, is retro style mixed with a dash of sass to make unique accessories for everyday use. I believe an item I make should last a long time and make you smile every time you look at it. I'm excited to be part of the SF Etsy team and look forward to sharing many crafty how-tos!"
Akiyo from
My Dear Darling
is the lady behind the look here at the blog. Though no longer a member of SF Etsy because she moved out of the area, we remain thankful to her for designing our beautiful banner and logo graphics and putting together our nifty layout!
SF Etsy is so lucky to have such talent in its members, and we always welcome new folks and fresh ideas to the blog team. So if you have a notion about what you'd like to see us write about or would like to help out, let us know!