I had such fun exploring the shop of this week's featured SF Etsy artist! And I was delighted to learn more about Stefanie, the creative force behind
Handmade Jewelry by Stefanie Kraus
. I love the one-of-a-kind "wearable art" in her collection, especially pieces like this
ring featuring a picture of a vine
: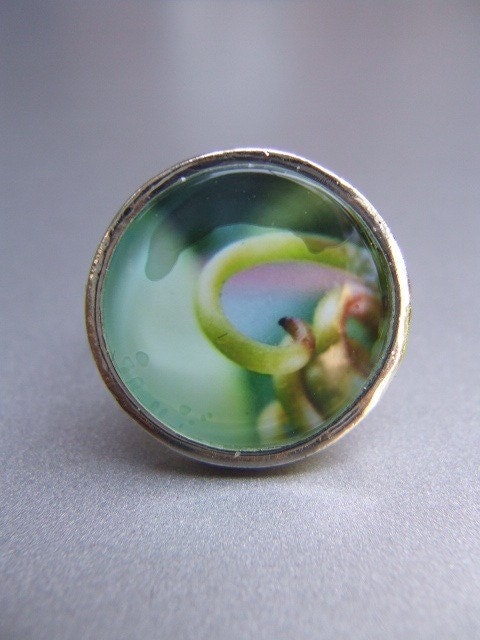 Enjoy the interview!
1. Please tell us about the items in your Etsy shop. What do you make? How did you learn your craft? What is involved in your creative process?
Making soldered pendants started as a side project when I had an
art show at the Mendocino Art Center in 2008
. I was showing my photographs there, and I thought that offering jewelry made from original photos would be a nice way for people to buy the photographs as "wearable art." The pendants became quite a success and I ended up selling them through the Art Center for almost a year.
My inspiration for both photography and jewelry comes from nature. I love organic shapes, the texture of twigs, the way a flower petal gently unfolds... I recently started adding jewelry made from precious metal clay to my selection and because I shape every piece by hand, often using molds made from nature, no two pieces are alike.
2. To which Etsy Teams do you belong?
East Bay Arts Collective
EFA Etsy for Animals
SF Etsy
3. Tell us two (or more) other interesting things about you.
My other passion is animals and I am currently volunteering at two animal shelters in the Easy Bay and also a member of the Board of Directors with the Berkeley East Bay Humane Society. I have raised money for the shelter by donating all the proceeds from my store for two months, and I have also donated jewelry for fund-raising events. When both those passions come together, I feel happy and "complete". Other than that, I am a User Experience Designer by day and love my current position at a startup in San Francisco.
4. What is your biggest challenge related to your Etsy shop?
Marketing and promoting is very tricky. Since I have a full-time job, I can only dedicate a certain amount of time to my Etsy shop but I feel that, in order for people to find you, you constantly have to add new items. I wish Etsy would have more tools to help people promote their store.
5. What is your favorite item in your shop (currently for sale or previously sold)? Why is it your favorite?
Different versions of
this cat necklace
that I made for Halloween were sold four times. I love the necklace since it features a neighbor's cat that I feel in love with while I lived in San Francisco. Freddy, the cat, had a very hard life but so much personality and fierceness that he became an inspiration to me.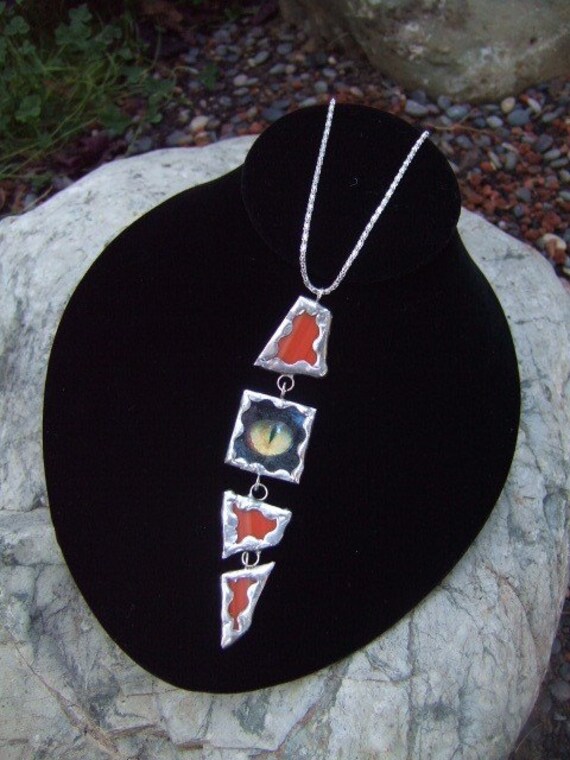 6. What crafting skill(s) do you wish you had or hope to learn someday?
I would love to learn lost wax casting. It creates similar outcomes than PMC but I like the more traditional approach of this craft.
7. Which one song describes your life the best? Why?
"Anywhere anytime anytime" by Nena and Kim Wilde. It perfectly describes how we, as humans, connect for a certain amount of time and how we can create wonderful relationships even if we came from different cultures. Having lived in the Bay Area for 13 years, after growing up in Germany and also living in Switzerland for 6 years before coming to the US, I can relate. I love this part in particular:
"Wrap your fingers 'round my neck
You don't speak my dialect
But our images reflect"
8. If money were no object for just one day, what would you do?
Take the money and donate it all to create a "state of the art" animal shelter.
9. Where else can we find out more about you and/or your creations?
Facebook
Flickr
Website
---
If you're an Etsy seller in the San Francisco Bay Area, contact Jen from Mama's Magic Studio about joining SFEtsy!