This week's featured SF Etsy member is Kate, who runs
This Charming Candy
along with her business partner, Susan.
Santa, are you listening? I would love to get some of these in my Christmas stocking this year!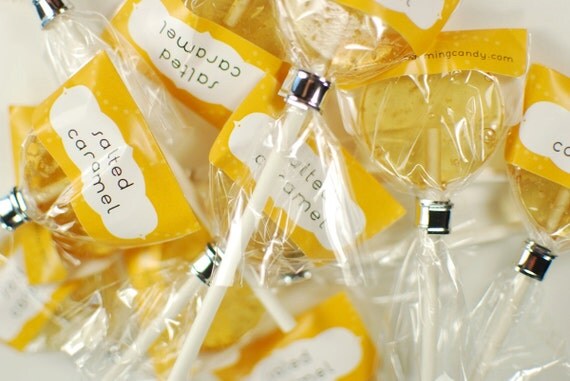 Actually, anything from their
Spice Rack collection
sounds quite yummy to me!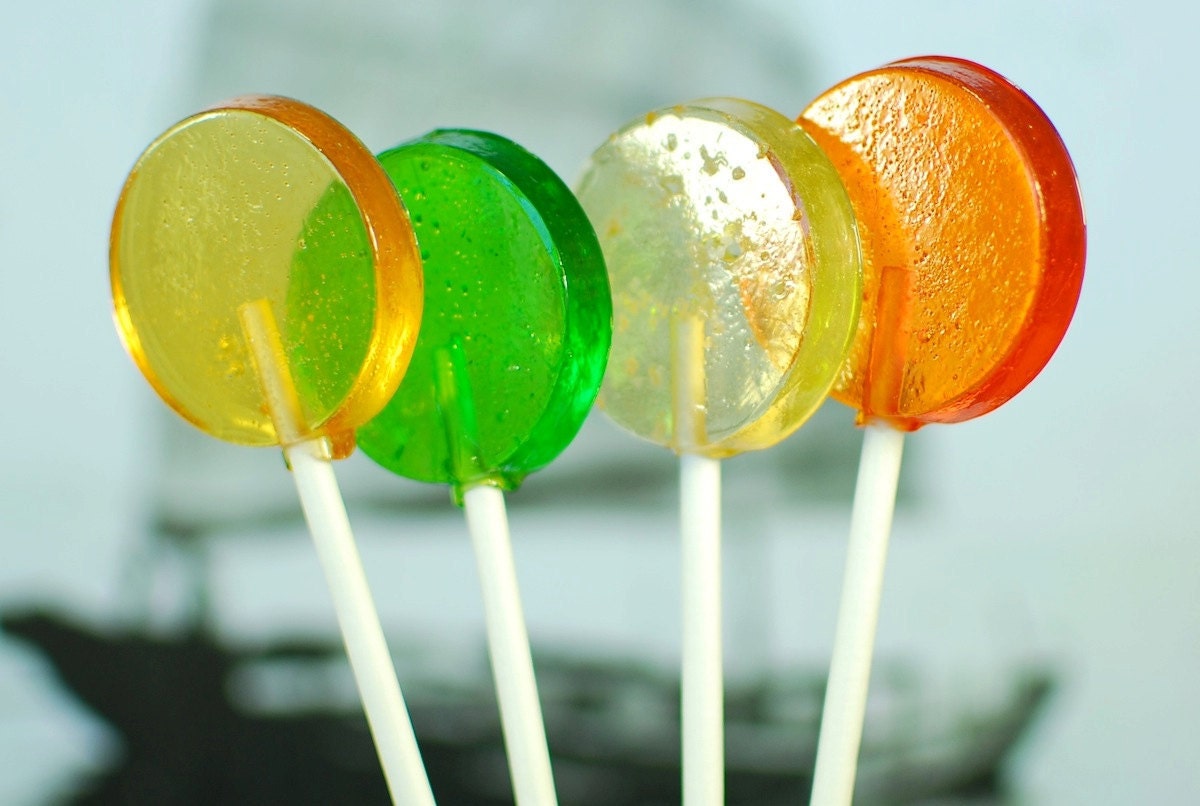 Hang on to your taste buds and enjoy the interview!
1. Please tell us about the items in your Etsy shop. What do you make? How did you learn your craft? What is involved in your creative process?
We make handcrafted lollipops! Our process is long and involved. An example might be best.
We recently refreshed our Adventurer's Pack - it used to have 3 flavors, not 4, and we'd moved one of those flavors, Nutmeg Creme to the Spice Rack. So it needed some help. We knew that we wanted it to be more than just "flavors you don't normally find in a lollipop."
Susan thought of trying to hit a few different flavor themes: sweet (which the Pistachio-Marshmallow, the only holdover from the previous iteration, hit nicely), salty, tart, and spicy. We scoured cookbooks, books about flavors, kept our eyes open when we went out, brainstormed ideas, and asked our customers what flavors they might want to try. We came up with a few candidates for each theme. Susan made taste-testing models, which we distributed amongst friends and local customers, and asked for feedback.
After gathering all the feedback, we took the flavors that the most people liked OR the flavor that had the most enthusiastic supporters (Salted Anise was polarizing, but the people who like it? REALLY like it.) We did a few more iterations with our taste-testers to come up with the final flavors and recipes.
We eventually decided the
Adventure Pack
would include:
Sweet: Pistachio-Marshmallow
Salty: Salted Anise
Tart: Tart Pluot
Heat: Black Pepper Melon
It's been a success! We love getting ideas and feedback from our customers.
2. To which Etsy Teams do you belong?
SFEtsy, EtsyRain, EtsyLush, EUC Team
3. Tell us two (or more) other interesting things about you.
This Charing Candy is actually 2 people: Susan and Kate. Kate lives in Sunnyvale, CA and is a member of SFEtsy, while Susan lives in Seattle and is a member of EtsyRAIN. We are in constant communication with each other. If it weren't for smartphones, the internet, a lot of trust, and all the communication, there's no way we could do this.
4. How did you get involved with Etsy?
Susan made fabulous lollipops, and Kate wanted to help tell the world about them. We knew we had enough interest from people that we could sell our creatively flavored candy, and we also knew that we wanted to make it ourselves. We didn't want to outsource it. Etsy was a perfect place! We launched our Etsy shop with just two products: Spice Rack and Fruit Basket (a previous version of the Fruit Basket that bears little resemblance to the current one). We've slowly added new products, revamped some products (like the Fruit Basket), and retired some others. Etsy has been a great way to bring our collections and flavors to our customers!
5. What crafting skill(s) do you wish you had or hope to learn someday?
My mom was a fantastic sewer. She made most of my clothes as a kid, and almost all of hers. I wish I'd been gifted with half her ability. I have all her sewing supplies now, and I'm looking to find the time to teach myself how to be a better sewer. We've ordered some fabric for our craft show tablecloths from Spoonflower, and I've gotten to practice by making those. It's small, but any chance to learn is a good one!
6. Tell us about your first sale ever?
It wasn't our first sale, but the very first day our shop was open, we were contacted by someone in Ireland, asking if we shipped internationally. Our Vanilla-Cardamom lollipops had caught her eye, and she really wanted some. Susan and I had never even thought about it - we assumed that we'd be based in the United States and anything international would be years off. We explained the situation to her and asked for a few days of patience on her part while we researched what, if anything, we needed to do. After some frantic forum questions and internet searching, we decided that we could ship internationally. We set our shipping prices, contacted her, and made the sale a few days later. It was quite the learning experience. It taught us that we should always be flexible and act as quickly as we can.
7. Where else can we find out more about you and/or your creations?
Blog
Facebook
Twitter
---
If you're an Etsy seller in the San Francisco Bay Area, contact Jen from Mama's Magic Studio about joining SFEtsy!