This week's featured SF Etsy member is
Tuesday Moon
, where you will find whimsical and wonderful art. I love it when the things that catch my eye also intrigue my kids -- and it turns out my favorite piece at Tuesday Moon is definitely one that got the attention of my son, who is somewhat obsessed with the ocean and ocean creatures at the moment. I just love the mix of realism and child-like lines in
Sea Life 1
-- and the upside-down octopus is brilliant!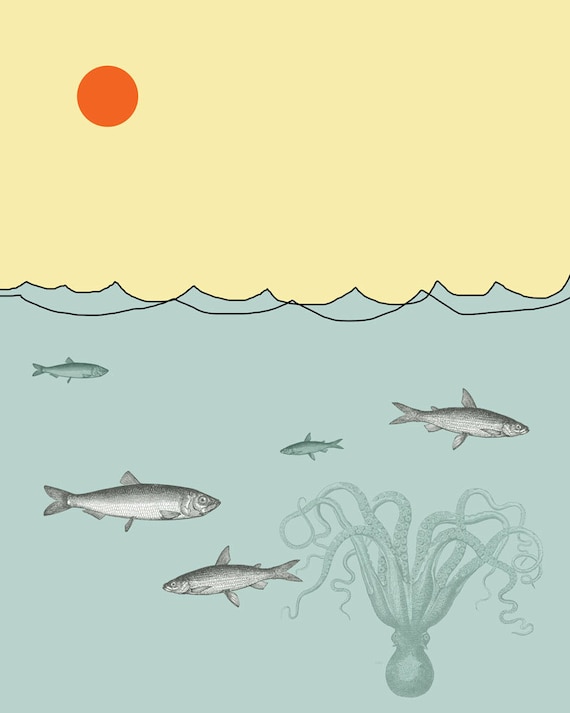 Enjoy the interview!
1. Please tell us about the items in your Etsy shop. What do you make? How did you learn your craft? What is involved in your creative process?

I offer a mix of original art and reproductions such as at prints and posters as well as mini-prints. Occasionally I will offer ACEO's as well. My creative process includes illustrations that are scanned in and then manipulated in Photoshop to create digital works. I also draw with a digital pen right onto Photoshop documents. When I want to get away from the computer I work in my studio (aka garage) and I create mixed media pieces usually with vintage postcards, old stamps, newsprint and magazine pictures. I recently did a piece that included a line of painted spheres and vintage photos of women from 1950 's or 1960's advertisements that were cut out and placed next to the ball. They each looked like they were part of the piece but it was a mix of acrylic, collage and gel medium and it had a lot of depth. I have learned through a process of watching others, studying art in college and by simply trying new things and making lots of mistakes. I truly believe that most artists require instruction from professionals. Though many say they are self-taught, they often lack basic skills especially when it comes to drawing and painting. I had amazing instructors in college and use many of those elements today.

2. To which Etsy teams do you belong?
SF Etsy and the Art Team.

3. Tell us two (or more) other interesting things about you.
I am a voracious reader and gardener and passionate about green living. My compost pile is a proud part of my garden. If I can get down to one bag of a garbage of week then my week is complete. I like lists and beautiful words so much so that I am a member of List Geeks and have a compiled a list of my favorite words. I am not traditional so I'm working on coming up with new ways to have a Christmas tree - that doesn't involve an actual tree. It's not as easy as it looks. Oh - I have a collection of mini Eiffel Towers. I went to the real one this past August.

4. How did you get involved with Etsy?
I have been involved with Etsy since 2007 and I read about it in a magazine and it sounded like a great opportunity to show my work. It was so new at the time that the marketing that is available now was only in the beginning stages at that time. I feel like I have grown with Etsy.

5. What is your favorite item in your shop (currently for sale or previously sold)? Why is it your favorite?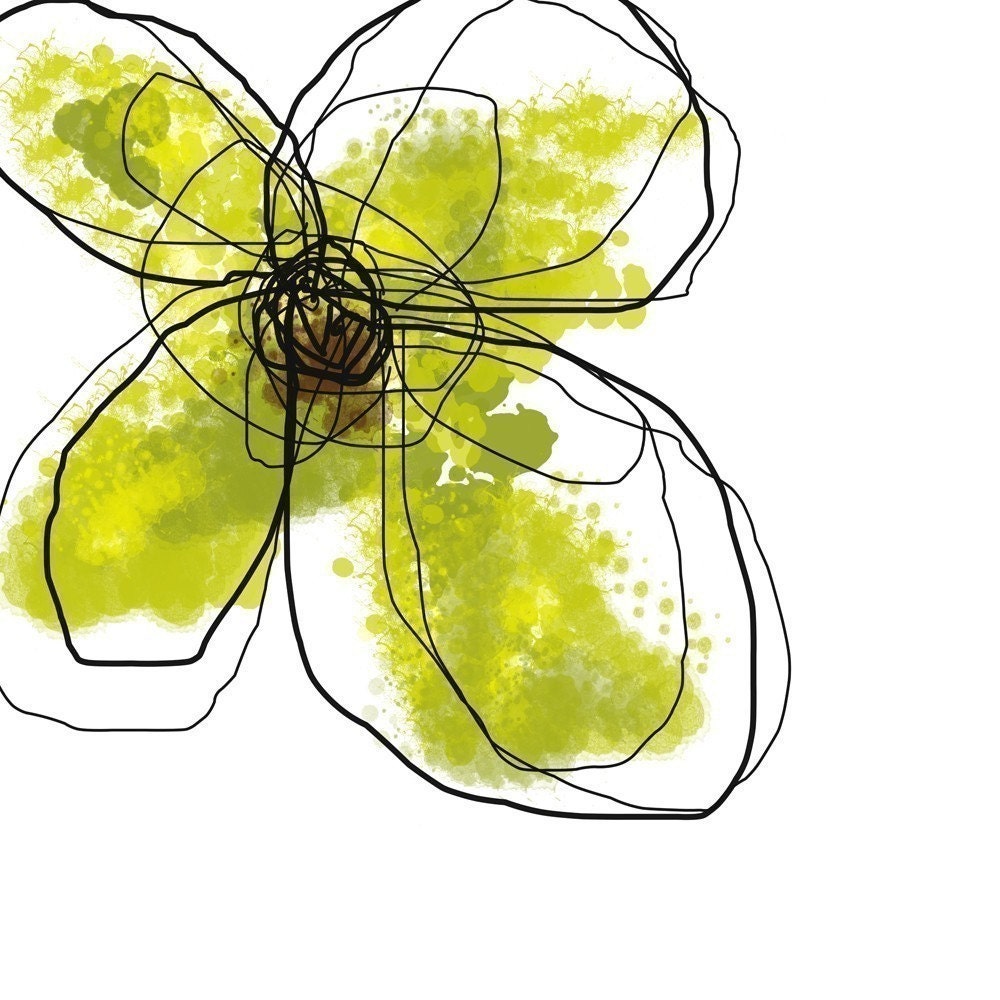 My
Liquid Green Florals set
is my favorite. I have sold this set many times over and it's my favorite color. The color feels fresh and crisp and since I am a summer person - not a winter person at all, the color reminds me of my favorite time of year.
6. What advice do you have for other folks selling or buying on Etsy?
Be comfortable with internet sales. There will be bumps along the way but enjoy the ride and learn all you can. Read up on SEM and SEO to get the most bang for your buck. Understand how to title pieces for the most impact. Understand the way a person shops on-line and keep current with your shop. Continue to relist items to keep your pieces near the top. And share your listings on other sites such as Stumble Upon, Twitter, Facebook and Tumblr.
7. What crafting skill(s) do you wish you had or hope to learn someday?
Wax encaustics are amazing! That's my next endeavor I think. There is a lot of chemistry involved and you can't do it when it's too hot out. Also - you have to work small which is good for me as most of my pieces are on the smallish side.
8. What is the craziest gift you have ever received?
Well - it's either the craziest or worst gift. When I was 20 my boyfriend at the time gave me season tickets to Cal football. If he knew anything at all about me if would have known I don't like or watch football. Ever.....
9. What does buying and selling local handmade mean to you, and how has it affected your life?
Artists need all the support they can get from the community. With less and less money going to art programs it is more important than ever to shop locally, support art programs, support artists and invest in our local talent. Unfortunately the cheapest stuff comes out of factories so we need to get back to the roots of creation and let people know that buying from local artisans gives back and invests in our culture. It has affected my life because I think in my own small way it has given me the extra funds I have to make my life for me and my family better. We have also had more funds to buy from local artists so the art in our home reflects the talents of so many artisans.
10. Where else can we find out more about you and/or your creations?
My blog is
The Art Planet
and here is where I post about local art events, emerging artists and green living. I also have blog links to my favorite blogs.
Flickr
Imagekind store
Zazzle store
---
If you're an Etsy seller in the San Francisco Bay Area, contact Jen from Mama's Magic Studio about joining SFEtsy!