This week's featured teammate is Janet, who runs
Honey From the Bee
. I love the gorgeous colors and textures in her artisan jewelry! This
Black and Red bracelet
particularly caught my eye -- isn't that lampwork gorgeous?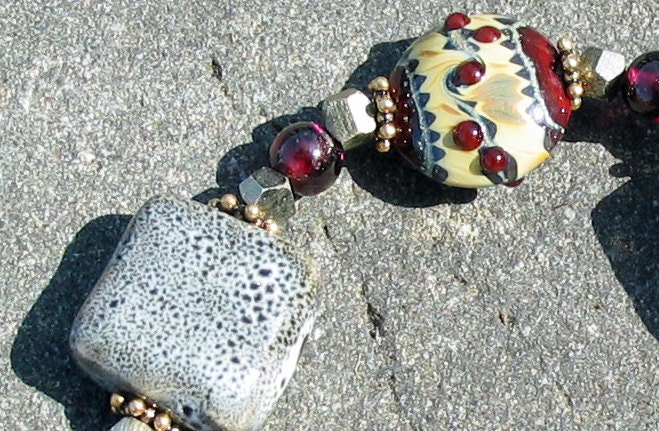 Enjoy the interview!
1. Please tell us about the items in your Etsy shop. What do you make? How did you learn your craft? What is involved in your creative process?
I create one of a kind and limited edition earrings, bracelets, brooches and necklaces. I'm a recovering workshop junkie. I've always loved to learn and find spending several days with like-minded people is very inspiring and comforting. Everyone is supportive and "gets" your creative side. I touched beads for the first time at a local bead store near Portland, Oregon about 13 years ago. Besides workshops at retreats I've taken a semester of a small metals course through our local junior college. Practice, practice, practice...
I find it difficult to create when I'm not in the mood. However it doesn't take much more than flipping through some magazines or books and pulling out drawers of my stash to get back in the mood. I like to create pieces that tell a story so there will be a bead or a photo that stirs something in me or some memory that I want to capture. Then I will spend some time pulling colors from my stash before sitting down to either draw a potential design or I might go right to playing around with the beads and wire or silver pieces I've created to see what's pleasing.
2. Aside from SF Etsy, to which Etsy Teams do you belong?
Unique Women in Business (UWIB)
Blogging Business Artisans (BBArtisans)
Those are the ones I'm active in. I belong to some others related to treasuries and the Etsy Blogging team.
3. Tell us two (or more) other interesting things about you.
I started out college prep and after a brief time in accounting I loved my job as a computer programmer. I found it to be a creative outlet and very satisfying. Working long hours wasn't a problem much like when I am really focused on a new piece of art jewelry.
After falling in love with someone else's Springer Spaniel named Gus my husband and I have owned three ourselves. If you've ever had one you know what I mean when I say they are the most fun and loving dogs one could adopt. Currently Daisy and Moose grace our lives with their silliness and cuddling requirements.
I'm currently exploring fiber again with my knitting, weaving and hooking. I love mixed media so am also exploring more in that area, too. I'm trying not to think ahead to what that means. I think I'll always create jewelry, but maybe there will be a crossover?
4. How did you get involved with Etsy?
I used to do just art shows, but wanting a year-round exposure of my work led me to Etsy.
5. What is your biggest challenge related to your Etsy shop?
Getting seen! Etsy seems to promote the same look and shops over and over again. At least that's the way it seems to me. So one has to do one's best to network and get the SEO up on one's shop, blog, etc. I still don't have a handle on SEO, but I do enjoy blogging and that seems to have connected with quite a few folks. I've also gotten a following on Facebook which is another way for me to stay in touch with other artists as well as my customers.
6. What is your favorite item in your shop (currently for sale or previously sold)? Why is it your favorite?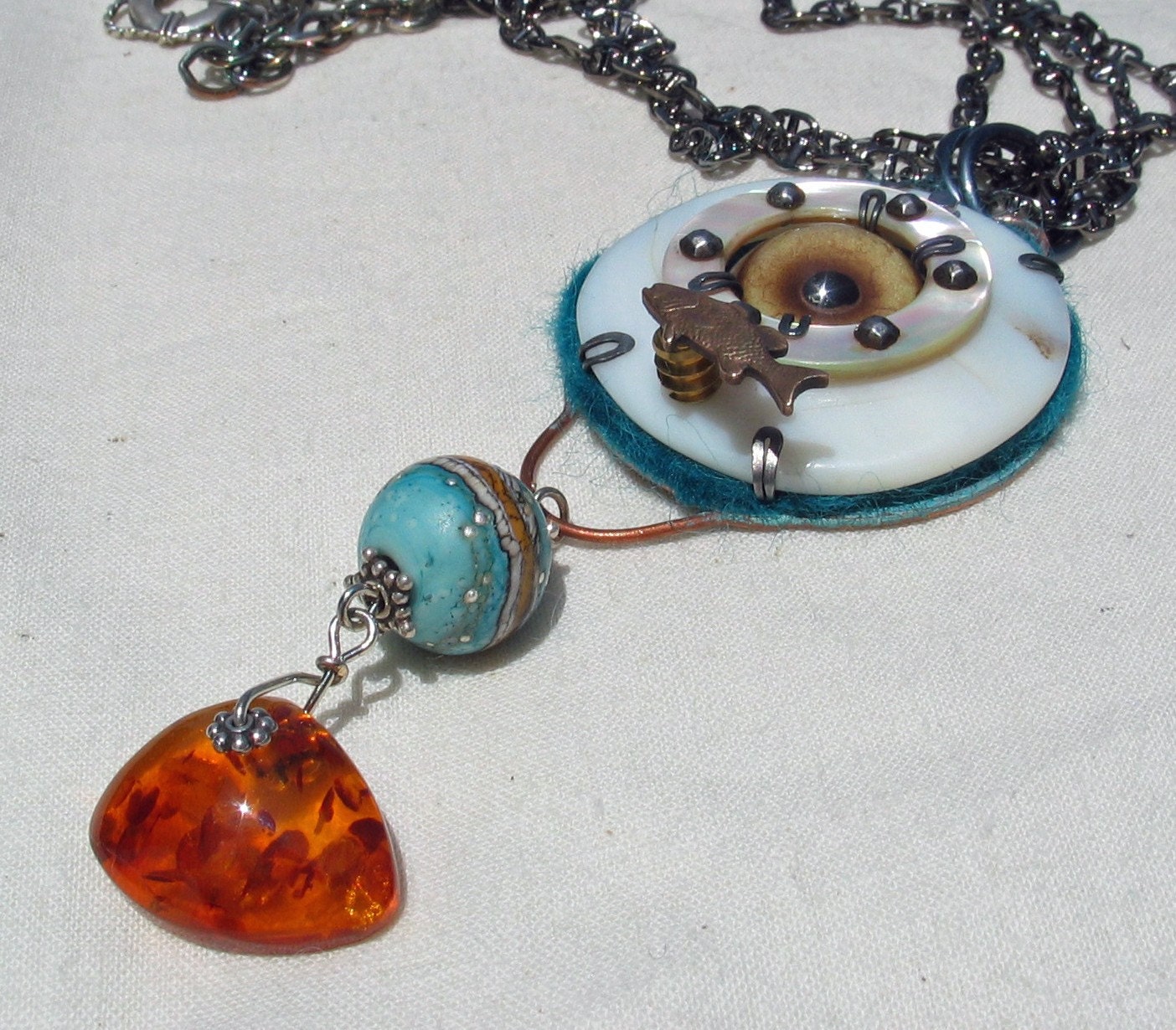 Environmental issues always strike a cord with me. When the Gulf Oil Spill occurred I found I was depressed for weeks while watching this disaster and feeling helpless. One morning I woke up and knew exactly what I wanted to do. I would turn those raw emotions into jewelry. I made a series of 3 talisman pendants.
This one
was the one I had a clear vision for and yet was the most difficult to complete. There are a lot of techniques involved and I wanted it to be beautiful to wear yet prompt conversation. The government, BP and the local people that depend on the Gulf for their livelihood all have an interest in us forgetting what happened. I won't do that and know that if you let people forget, more horrible decisions will be made in the future.
7. If you had a gift certificate to Etsy for any one item you wanted, what would you buy?
This "Incredible" Chandelier
(you said ANY item I wanted... lol!)
8. What crafting skill(s) do you wish you had or hope to learn someday?
Quilting... I'd like to take my love of fiber and tie it to my love of beads in art quilts
9. Where else can we find out more about you and/or your creations?
Blog
Flickr
Facebook
Twitter
---
If you're an Etsy seller in the San Francisco Bay Area, contact Katy or Steph about joining SFEtsy!