This week's featured SF Etsy teammate is Sarah, the glass artist who runs
Mediums to Masses
. I am a huge fan of handcrafted glass, so it was a wonderful treat to check out Sarah's shop! I love the way she combines textures and images with bright colors, as in this
Modern Glass Plate in orange
. Just stunning!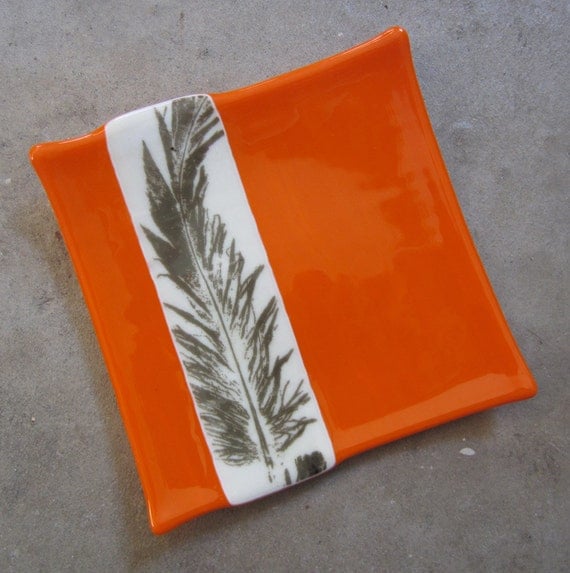 Enjoy the interview!
1. Please tell us about the items in your Etsy shop. What do you make? How did you learn your craft? What is involved in your creative process?
I make fused glass jewelry and home decor that combines vintage textile patterns with modern, vibrant glass colors. The patterns are screen printed onto the glass, then fired into the surface in a glass kiln. I spend lots of time looking for new patterns and watching to see what trends are for colors/ styles (otherwise everything in my shop would be green since that's my favorite color!).
I've been working with glass for over 16 years and actually studied glass as an undergrad at Rhode Island School of Design and since then have worked for a variety of glass artists but am very happy to be working for myself now. I'm still totally enamored with glass as a medium due to all the various ways you can manipulate it and am constantly thinking about new ideas.
2. Tell us two (or more) other interesting things about you.
I received my MFA in sculpture last May from Mills College and when I'm not working on my glass wares I am in my art studio making sculptures and installations. (Too big to sell on Etsy!) I also am the mom to an awesome 4 1/2 year old daughter name Ahmory and have another baby girl on the way (due in April) and a wonderfully supportive husband!
3. To which Etsy Teams do you belong?
SF Etsy, East Bay Arts Collective, Rhode Island School of Design, Heartsy Official
4. How did you get involved with Etsy?
I had been selling my glass wares at wholesale trade shows, but after my daughter was born I wanted to figure out another way to get my glass work seen without having to travel and pay hefty booth fees. With my second daughter on the way, I'm once again really trying to promote my Etsy store since I seem to have ended up doing lots of retail shows to get my work out there.
5. What is your biggest challenge related to your Etsy shop?
Promotion (as related to the above question). I closed my shop for the last few months of grad school and it really made me lose momentum. So, now I'm working on getting more views and playing with keywords since the change to search by relevancy also has made it harder for me to get views. I guess I also need to break down and make my own blog & facebook fanpage too!
6. If you had to be an animal for one week, which animal would you choose to be? And what would you do?
Without a doubt I would be a cat- they truly have the life getting to lounge around in the sun, get pet and held and they are so cute (all of them)! I really like cats and have 2 of my own plus a 3rd who lives outside and thinks he's my cat but my husband thinks otherwise. My week spent as a cat would be very relaxing!
7. If money were no object for just one day, what would you do?
I would buy all of my favorites on Etsy!! Not only would I be supporting other small business owners and artists, but I'd have an amazing wardrobe with lots of great accessories and my home would be filled with lots of wonderful handmade items and I'd have a selection of great gifts to give out to my friends and family.
8. What does buying and selling local handmade mean to you, and how has it affected your life?
I have always been a maker and truly appreciate other hand made items. As a teenager I made most of my own clothes since I didn't want to dress like everyone else. As an adult, I try to always support local businesses and buy handmade from Etsy as opposed to big box stores (and hopefully this helps instill an appreciation of handmade in my own daughter). I also love owning & gifting unique items that you can't find at regular old retail stores.
9. Where else can we find out more about you and/or your creations?
The
Mediums to Masses website
or my
artist site
.
---
If you're an Etsy seller in the San Francisco Bay Area, contact Katy or Steph about joining SFEtsy!