This week's featured SF Etsy teammate is Willo of
WilloToons
! I was especially interested to learn more about her and her shop since I'm a proud owner and wearer of this
"You Would Blog Too If It Happened To You"
T-shirt from her collection: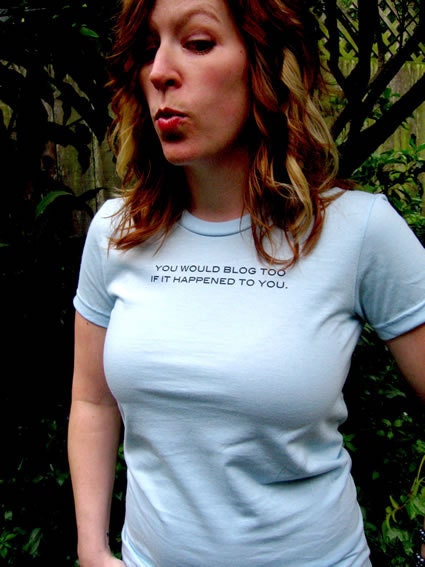 Comfy fashion plus geeky humor to the tune of a
1960s soundtrack
? Yes please! (I'd rather blog than cry any day!)
Enjoy the interview!
1. Please tell us about the items in your Etsy shop. What do you make? How did you learn your craft? What is involved in your creative process?
I create silkscreened & embroidered apparel (including adult tees, organic onesies & totebags), rockin' jewelry for crafty ladies, greeting cards and eco-friendly totebags. I describe my line as "where geek meets rock 'n roll", as my products are a result of my love for internet connectivity, illustration and indie music.
I've been doodling and drawing for as long as I can remember, and after being a web/graphic designer for years, I really wanted to make something tangible. My goal with my
WilloToons product line was to offer products/gifts that celebrate the individuals that wear them (e.g.
geekyfantastic

and

cat power

), and my fans are those who really identify with my illustrations and designs. Selling at craft shows was one of the most rewarding experiences for that reason. There's nothing like seeing someone hug their new tshirt in pure joy. You can't hug a website!
2. Tell us two (or more) other interesting things about you.

I launched WilloToons Connect last summer, a video series aimed at promoting creative sustainability in life and business. One of my favorite episodes features Marianne Elliot, an amazing yoga teacher and human rights activist. I've also featured talented artist/illustrator Mati Rose, and know a lot of Etsy sellers will resonate with her process.
Another exciting development is that after falling in love with Stitch Labs while consulting for them last year, I'm now a co-founder, and a part of the team full-time!

After having my own product line for so many years, I'm intimately aware of the challenges that creative small business owners face... specifically when it comes to having a solid system that can work for you, to help you streamline your sales channels and the not-so-fun stuff, like inventory management and bookkeeping.
Most importantly: We integrate with Etsy stores! Take a look at what some of our customers have said in the Etsy forums:
Overall I'm very passionate about helping fellow creatives, and have done a lot of speaking, consulting and coaching as a result. I do a fair bit locally, but I'm also putting on a 2-day CraftMakerCamp at SXSW this year, and speaking at the HOW Design LIVE event in Boston this summer. Check my website for all of my upcoming events (online ecourses, etc), and sign up on my newsletter or contact me directly, if you want to stay 'tooned! :)
3. What inspires your creations?
My mission is to create art that:
* inspires creativity
* celebrates individuality
* connects with people, and brings a smile to their face
* allows people to express their love to friends and family
* celebrates & empowers the inner geek… whether it's art & design, environmental causes, music or just the internet & all its super-glory.

4. How did you get involved with Etsy?


I joined Etsy way back in September of 2006. I think I may have discovered it through the SF Craft Mafia that I was a part of back then.


5. What advice do you have for other fols selling or buying on Etsy?

Well, of course my first suggestion is to get Stitch and integrate it into your shop: http://www.stitchlabs.com/ Stitch makes managing your business easier in so many ways, it will seriously change your life for the better.

My second suggestion is to practice creative sustainability. This means making sure you're taking care of yourself in your business, so you may continuing to love what you do. That's why you started it right? Thing is, it can get stressful and overwhelming... and all of a sudden your passion or craft is a chore and stressing you out. No good! I recommend integrating a few practices that will support you in staying connected to your creativity and the reasons why you love your business: Take yourself on art dates. Craft for fun (not just for profit). Know your strengths, own your weaknesses and don't be afraid to ask for help. Taking care of ourselves is a vital key to success in any realm.

6. What does buying and selling local handmade mean to you, and how has it affected your life?

I am a huge proponent of shopping locally and supporting indie crafters. I am blessed to be part of a huge community of crafters here in the Bay Area, as well as across the US. I try to support all the talented, amazing creatives out there in all the ways I can. My house is decorated with work from talented artists around the globe!
7. Where else can we find out more about you and/or your creations?
WilloToons Connect
Blog
Twitter
Facebook Fan Page
Flickr
LinkedIn
---
If you're an Etsy seller in the San Francisco Bay Area, contact

Katy or Steph about joining SFEtsy!