Happy Friday Folks!!!


We are back with our Friday Feature again. This week's interview is with
Camillette80
. Camille Ouellette makes silver jewelry and each month she donates half of the revenue on a selected item to a charity.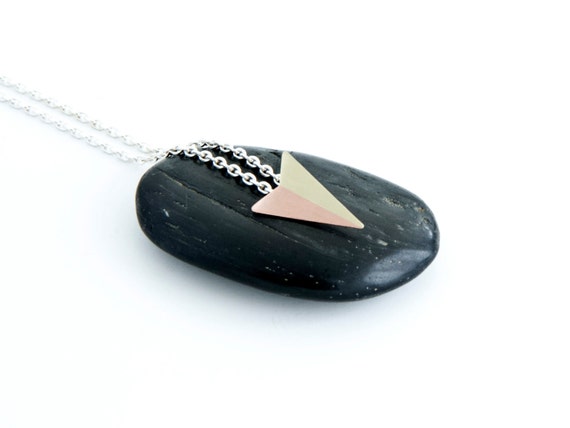 1. What is your shop name and URL?
Camillette80
www.etsy.com/shop/camillette80
2. To which Etsy Teams do you belong?
SFEtsy team
Les Joailliers du dimanche (jewelry collective from Montreal, Canada)
Montreal Etsy Team
3. Please tell us about the items in your Etsy shop. What do you make? How did you learn your craft? What is involved in your creative process?
I am making modern and simple jewelry combining silver with various materials like brass or copper. At the core of my work you will find geometric shapes and contrasting textures, materials and colors.
I took jewelry making classes when I was a teenager and I got instantly hooked. I then took a few more classes and I got a bachelor diploma in industrial design. I also participated in a school exchange at
Haute École d'art et de design
in Switzerland where I further developed my jewelry making skills.
A lot of things inspire me: art, design, illustration, and architecture. I usually sketch a little, keep the best and make a few prototypes. I don't have a specific creative process except that when I know I hold a good idea, I can hardly get it out of my head until I make the piece! It's hard to shut down my brain sometimes…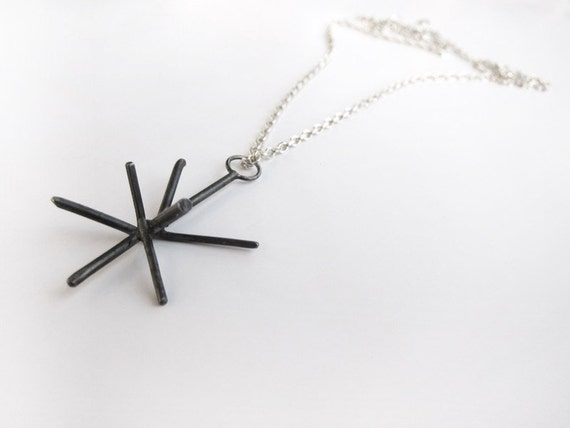 4. Tell us two (or more) other interesting things about you. (Hobbies, achievements, favorite something-or-other, family situation, jobs, etc…)
My main occupation is being a sustainability consultant. I run my own consultancy developing communication solutions and campaigns to promote various projects (eco-design, green building, etc.) for not-for-profit or corporate clients. I originally come from Montreal, Canada. I moved in the lovely South Bay area about a year ago. To me, California feels like being on holidays all year round! I set up a small jewelry workshop in the garage of the house my husband and I are renting.
5. What is your biggest challenge related to your Etsy shop?
Increase my sales! So far, I have been relying on word of mouth and participating in a few craft fairs to sell my jewelry. I have had an Etsy store for a few years now, but the volume of sales never picked up. Shame on me because I never devoted the time to improve my listings and maintain my shop. Who wants to follow a shop with always the same items anyway? Working part time on my jewelry, it's often hard to find time in a fully packed schedule for promotion activities. I usually prefer to spend hours in the workshop actually making jewelry instead of marketing. This is about to change as I plan to update and continually refine my Etsy store from now on. Etsy is an amazing tool for artists and crafters to put your work out there and expand your clients' base. This is the opportunity I want to leverage more.
6. Give us some insight on how you personally, or your shop, gives back to your community.
I recently introduced a "Buy 4 a cause" item in my Etsy listings. Every month, I will select an item, which half of the sales revenues will be given to charity. Every month, I will suggest a different charity, but the buyer can also propose a charity of its choice. In September, I chose the item
Square brass earrings
- small colored cube earrings in brass and silver and the suggested charity is Amyotrophic lateral sclerosis (ALS), often referred to as "Lou Gehrig's Disease". I find it a pretty neat alternative to the ice bucket challenge. It's my way to get socially involved and give back to people in need.
7. Where else can we find out more about you and/or your creations? (blog, website, flickr, facebook, twitter, etc…. please provide relevant links)
Before living in the US, I spent five years in Sweden where I met a fellow jeweler and friend, Sofia Sandell. We used to share the same workshop space so we decided to create together our website,
camilleandsofia.com
. You can find on our website all my jewelry as well as Sofia's. Now that we live away from one another, it's a great way to keep in touch and updated with each other's work.
I also have a
Facebook page
. Please Like it if you enjoy what you see!
You can also subscribe to some of my
Pinterest boards
.
8. Is there anything else you'd like to tell us about your shop or your work?
I am also part of a wonderful Quebec's based jeweler collective called
Les Joailliers du dimanche
. Bringing together both hobbyists and professional jewelers who wish to share their work, it's a great platform to promote and support local handmade jewelry and their artisans. The collective organizes jewelry exhibitions and curated sales, and is very active in the local jewelry scene. The website is mostly in French, but some articles are in English. I have been involved with the collective for a few years now, participating and organizing events, writing articles and managing the website. I recommend you to have a look at the
portfolio section
, where you can discover the work of the many talented members of the collective. The collective also has a
Pinterest account
and a
Facebook page
.
---
If you're an Etsy seller in the San Francisco Bay Area, visit Our Team Page about joining SFEtsy!