Today I'm delighted to present an interview with Ilana, the creative genius behind
The Golden Gear
.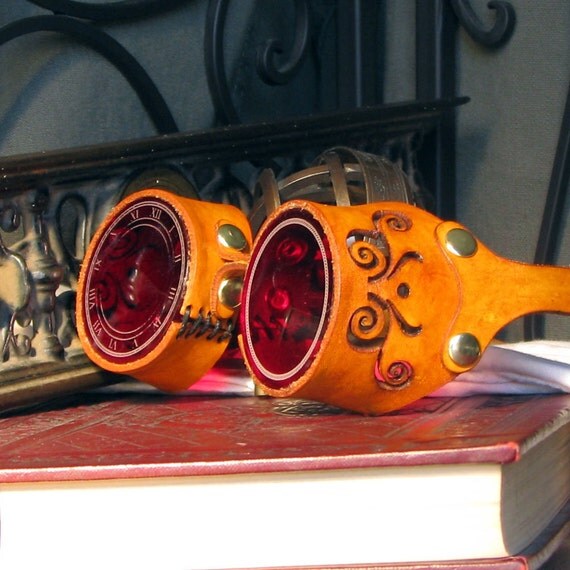 Steampunk Leather Goggles
by The Golden Gear
I had the great pleasure of meeting Ilana at our recent
SF Etsy meet up at TechShop San Jose
. Ilana's meticulously crafted steampunk creations are jaw-droppingly fabulous. And even more so in person! I especially loved her leather goggles and the nifty storage and presentation kit that she used to tote around her creations.
Also at the meet up was SF Etsy artist Suhita of
Sketch Away
, who shared this lovely sketch and very kindly agreed to let me post it as part of Ilina's interview. How cool is that? I love it when online life intersects with the real world!
Sketch of Ilana from
The Golden Gear
by
SketchAway
Enjoy the interview!
1. Please tell us about the items in your Etsy shop. What do you make? How did you learn your craft? What is involved in your creative process?
I make many things including custom leather goggles, drop-in goggle lenses, cast earrings and pendants, mounted decorated beetles, beetles for hat and hair decoration, custom display containers, and steampunk jewelry.
Like my product line, my creative process is kind of all over the board. I learned most of my creative skills out of necessity in the 90's as a period costumer. Internet commerce wasn't what it is today, so I learned how to make shoes, corsets, hats, buttons etc. You couldn't just go down to the store or hop on the net and find 16th century dress hardware in those days - you either paid through the nose or made it yourself. Now I have a TechShop membership and I gobble up equipment certifications like popcorn!
2. Tell us two (or more) other interesting things about you.
I've done everything from grunt to executive, but I've always been most comfortable in my workshop. I had my own tool belt when I was six and helped build our family home - I was short enough to hammer all the nails close to the ground. This gave me a lot of independence and encouraged me to work with tools from an early age.
My most recent exciting adventure was having two of my items featured at the Steampunk: History Beyond Imagination exhibit at the Muzeo in Anaheim. I'm hoping the exhibition goes on the road as I'd love to see it here in the Bay Area. They displayed "The Gear Thief", one of my mounted beetles and "The DaVinci Hat" which is one of my favorite straw hats with fabric DaVinci style wings and a Gideon beetle from Indonesia.
3. What inspires your creations?
I find inspiration in many places from media to nature. My mom is an entomologist and I have always found interesting inspiration in her many beautiful insects. I like to decorate my critters in ways that get people who are afraid of insects interested enough to see how beautiful they are.
4. If you had a gift certificate to Etsy for any one item you wanted, what would you buy?
I would totally grab
this fab tentacle
. It's so playful and fun.
5. What has been your biggest success and/or proudest moment since opening your Etsy shop?
My biggest success has been my
screw earrings
.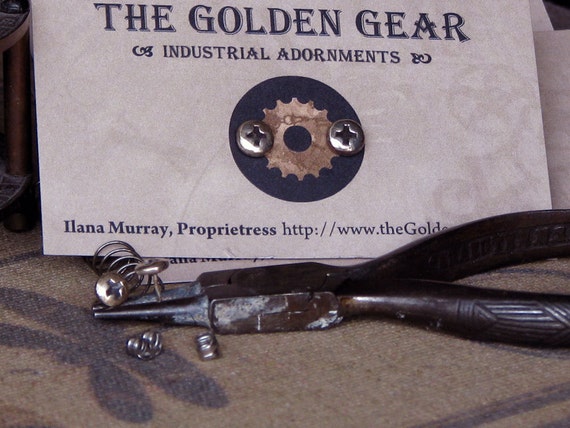 When my first box of mold making silicone arrived, I just stared at it and couldn't think of anything to mold so I grabbed a handful of screws that has been in a computer I was working on and made molds of all of them to test out vulcanizing. Turns out, I do ok at it and they are my biggest seller and favorite accidental success.
6. Which one song describes your life the best? Why?
This may sound cheesy but "Unwritten" by Natasha Bedingfield. I try to have that kind of new passion with my craft and my life and share it with others whenever possible.
7. If money were no object for just one day, what would you do?
create with reckless abandon.
8 What is the craziest gift you have ever received?
A freecycle gift of a casting centrifuge and all the tools, books, and supplies that I needed to start my jewelry business. I answered an ad on freecycle and she just kept bringing out the boxes of her mothers jewelry making things. I have never felt so blessed. This womans gift has changed everything about my life and how I plan to live it. Since that day, I've been happier and more positive than I've been in my whole life. A total stranger gave me back my creative mojo!
---
If you're an Etsy seller in the San Francisco Bay Area, contact Katy or Steph about joining SFEtsy!